On January 29, 1972, 50 years ago I married the love of my life.  Finding and marrying Carol was the best thing that ever happened to me.  I first saw Carol at a Phi Gamma Delta fraternity party at Penn State in the winter of 1967.  I was a pledge and she had been invited to the frat party because her sister Ellen was pinned to one of my frat brothers.  It wasn't love at first sight, but I do remember I thought she was the prettiest girl I had ever seen.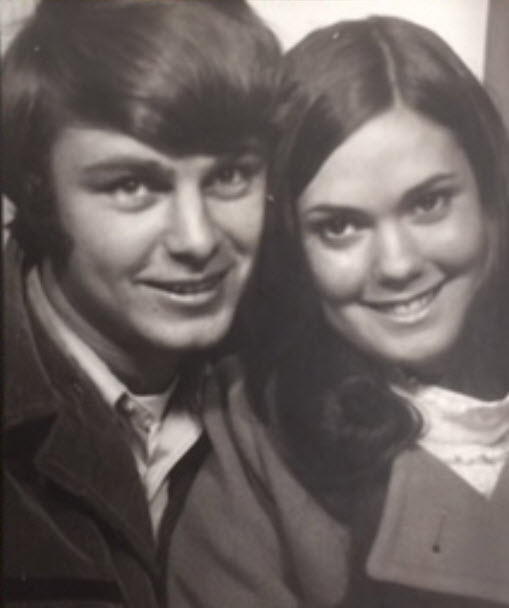 We were both freshmen that winter.  Carol dated a number of my fraternity brothers over the next two and a half years.  At the beginning of my junior year I asked Ellen if she would fix me up with Carol and she did.  Unfortunately for some reason I stood Carol up.  I was a no show.  Ellen was understandably mad and said she would never fix me up with Carol again.
The beginning of our senior year I got the courage to call Carol and ask for a date.  Getting dates at PSU in 1966 – 1970, the years we attended PSU, was very hard for guys because there were five guys for every woman.  My freshman year I called a girl for a date and she booked me six weeks later because that was her first opening.
Lucky for me Carol agreed to go out with me.  We hit it off immediately and dated exclusively our senior year.  After graduation I went to USAF Officer Training School at Lackland AFB, Texas, and Carol returned to her home town to take a job teaching in elementary school.  We tried long distance dating, but it was hard in the days before the smart phone, facetime, email and texting.
In the fall of 1971 I was just beginning the six month program in which I learned how to fly the F-4 Phantom supersonic fighter-bomber at Luke AFB, Arizona.
F-4Es returning to Korat Royal Thai Air Base, Thailand, from missions over North Vietnam
I called Carol and asked her to marry me.  She said yes.  We didn't have time to plan a wedding.  On Friday, January 29, 1972, Carol and I were married in the Methodist Church at Central Avenue and Missouri Avenue in central Phoenix.  Six people attended – my parents and brother, two of my parents' friends and my best friend from college who happened to be passing through Phoenix.  Unfortunately nobody from Carol's side of the family was able to attend the wedding.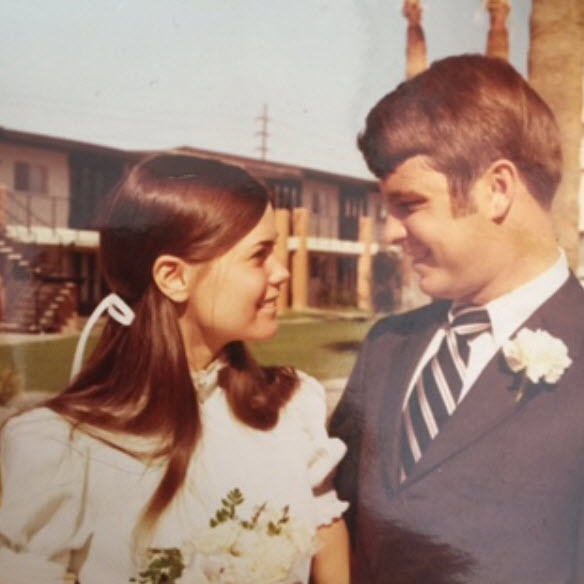 We drove to San Diego that afternoon for our short honeymoon.  I had to be back to work on Monday so we drove back to Phoenix Sunday afternoon.  We lived at Oakwood Garden apartments on 40th Street just north of Camelback Road, in Phoenix.  I drove to Luke AFB everyday to fly the F-4, attend academic classes and fly the F-4 simulator.  The traffic was much lighter back then, but it still took 45 minutes to drive one way.
In May of 1972, four months after we were married the Air Force sent me to the Vietnam war and Korea for 13 months.  Carol stayed behind in our apartment and worked at American Express at 32nd Street and Lincoln in Phoenix.  Carol lived with me in my one room barracks bedroom at Kunsan Air Base, Korea, for three weeks in 1973.   During the 13 months I was overseas we wrote a lot of letters to each other.  When I returned to the States we decided to destroy all our letters because we didn't want our future children to read what we thought was too much "mushy" language.  I now regret destroying those letters.
Carol and I have three children and four grandchildren.  For the last 21 years Carol and I have worked closely in my law practice.  She is the office manager and the bookkeeper.  She is one of the reasons I've been able to have a very successful law practice.
I love my wife very much and thank God everyday for letting her be the love of my life.