Forming & Operating LLCs, Business Law, Contracts, Transactions, Real Estate Law, & Estate Planning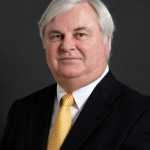 The KEYTLaw law firm was founded by Phoenix attorney Richard Keyt in 2001. Rick has been practicing Arizona law since 1980. He practices primarily in the areas of business law, contracts, commercial transactions, entity formations (more than 3,600+ LLCs formed since 2001), nonprofit corporations and charitable organizations, estate planning, probate and asset protection.  Rick is a lecturer on Arizona LLCs at the Phoenix School of Law.
Rick represents start up companies and established businesses with respect to a wide variety of business legal matters such as forming new companies, commercial contracts of all types and general legal issues.  He assists companies in adopting a Buy Sell Agreement, a document that is essential for all valuable companies because it contains the owners' exit strategy after a death, disability or other triggering event.
He has extensive experience representing buyers and sellers of businesses and borrowers and lenders in loan transactions.  At one time Rick was the Arizona attorney for one of the largest banks in the U.S. in connection with its loans secured by Arizona real estate.
Rick has represented buyers and sellers of raw land, commercial, residential, office, shopping centers and industrial real estate, including multi-million dollar securitized loan transactions.
Contact Information:
Phone: 602-424-4152
Fax: 602-297-6890
Email: rickkeyt@keytlaw.com
Physical Address:
KEYTLaw, L.L.C
3001 East Camelback Road, Suite 130
Phoenix, Arizona 85016
Martindale Hubbell Rating:
AV, which is the highest rating given by this respected national attorney rating service.
Education:
New York University School of Law, New York, New York, 1980, L.L.M. in Federal Income Taxation;
University of the Pacific, McGeorge School of Law, Sacramento, California, 1979, J.D., Staff Member and Associate Managing Editor, Pacific Law Journal
Pennsylvania State University, University Park, Pennsylvania, 1970, B.A., Bachelor of Arts
Former Firms:
Gallagher & Kennedy, P.A. – Rick was a shareholder in the corporate, transactions and intellectual property departments of one of the largest law firms in Arizona.
Keyt Lawless Zarkou Cronin & O'Sullivan, P.C. – Rick was a founder and a shareholder in a boutique business law firm.
Keyt & Lawless, P.A.- Rick and his partner of 17 years Tom Lawless started the firm in 1984 right after the birth of the KEYTLaw Girl
Admitted to Practice Law In:
U.S. District Court, Arizona 1980
U.S. Court of Appeals, 9th Circuit, 1980
Arizona Bar Association Section Memberships:
Affliations
Penn State University Alumni Association, Life Member
Xavier College Preparatory Dads Club, Life Member & Past President
Brophy College Preparatory Dads Club, Life Member
RAMMS Youth Baseball League, former coach, league commissioner and director
Wealthcounsel – Member. WealthCounsel is an organization of 2,200+ estate planning attorneys working together as colleagues — not competitors — who have created the premier cutting-edge document creation system in the estate planning field.
Wealthcounsel Advisors. Rick Keyt is a charter member of Wealthcounsel Advisors, an organization the purpose of which is to assist estate planning advisors to stay up to date and educated about the constantly changing law of estate planning.
Family:
Married to Carol Keyt since 1972. Carol is KEYTLaw's office manager, bookkeeper and primary LLC legal assistant. Rick and Carol have three children. They all graduated from Arizona State University. Kari, the oldest, is a Southwest Airlines flight attendant married to a Southwest Airlines captain and lives in Houston. Ricky has an undergraduate degree in accounting from Arizona State University and a masters degree in accounting from Notre Dame University. He is a CPA who formerly worked for a national accounting firm. Ricky graduated with a law degree from Arizona State University School of Law in May of 2012 and passed the July 2012 Arizona Bar exam.  He worked as a lawclerk for KEYTLaw while in law school. Ricky works for KEYTLaw.  Katie graduated from Arizona State University and was a KEYTLaw corporate and LLC legal assistant for six years.  Katie is the KEYTLaw Girl. See the Keyt family photo album.
Military Experience:
United States Air Force, 1970 – 1976; Honorable discharge as a Captain.
Member of the Red River Valley Fighter Pilots Association.

Flew the F-4 Phantom II supersonic (mach 2+) fighter bomber for five years. The picture in the prior link shows an F-4E over southeast Asia with a 20mm canon (a six barreled gun capable of firing 6,000 rounds/minute) in the nose and 12 Mark 82 five hundred pound general purpose bombs – 6 on the centerline and 3 under each wing. This was a typical ordinance load for close air support missions in 1972. The outboard stations under the wings carry two 360 gallon external fuel tanks that could be jettisoned if necessary for more range and better maneuverability.
Combat missions in 1972 over North Vietnam, South Vietnam & Laos while a member of the 35th Tactical Fighter Squadron based at Korat Royal Thai Air Base, Thailand.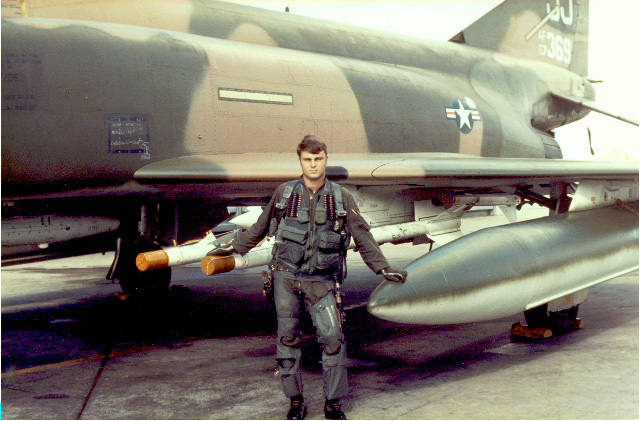 In the picture above, my right hand is resting on an AIM-9 Sidewinder infared guided air to air missle and my left hand is on a 360 gallon external fuel tank. The yellowish rectangular strips above the wing and on the tail below the JJ are florescent lights for night formation flying.
Sat nuclear alert as part of the single integrated operational plan (SIOP) (with a 1 megaton [the equivalent of 1,000,000 tons of TNT] nuclear bomb on my airplane) and air defense alert (intercepted Russian bombers approaching the coast of South Korea) at Kunsan Air Base, Korea, 1973. F-4s on alert had to be airborne within ten minutes of being scrambled, which was always an adrenalin pumping experience. Nothing quite like playing Monopoly or cards with the guys in the alert shack one minute and blasting into the sky five minutes later at 600+ knots in a supersonic jet fighter carrying four AIM-7 Sparrow radar guided missiles, four AIM-9 Sidewinder heat-seeking missiles and 700 rounds of 20mm ammunition.
F-4 instructor in the: (i) classroom (Aircraft General, Weapons Computer Release System & Combat Mission Planning), (ii) simulator, and (iii) airborne in the 35th Tactical Fighter Training Squadron at George Air Force Base, California, 1973 – 1976.
Twice picked up brand new F-4s from the McDonnell Douglas factory in St Louis and delivered the airplanes to Tehran, Iran, for the Iranian Air Force during the rule of the Shah of Iran.
For articles I have written about flying the F-4 in combat in the Vietnam war in 1972, see my F-4 website called Flying the F-4. See also my pictures from the Vietnam war.
See also, Dressed for the Aerial Office.