Form LLC Now
Home
Testimonials
Arizona Law
LLC Library Home
10 Critical Facts
LLC Prep Service
LLC vs. Corps
How to Form LLC
1 Member LLC Alert
LLC Quick Start Guide
Asset Protection LLCs
Partnership Bombs
How Many LLCs?
Doc Preparer Alert
OA FAQ
Why You Need OA
OA Prep Service
Buy-Sell Agreement
LLC Alert System
Annual LLC Minutes
Amend Articles
Change LLC Name
Change Members
Stat Agent Service
Register Foreign LLC
LLC Forms
AZ Loan Forms
LLC Articles
LLC Statutes
Get Fed ID No.
IRS Forms for LLCs
About Rick Keyt
Contact Information
Map to Office
For Sale
_______________
Articles on
LLC Formation
How to Form LLC
Name Your LLC
Articles Organization
Statutory Agent
ACC Coversheet
ACC Filing Fee
File the Articles
File at ACC
Keep Copy of Articles
Approved Articles
Publish Articles
Federal ID Number
IRS Forms
AZ Tax Forms
Operating Agreement
Operating Agr Service
Start a New Business
AZ LLC Statutes
LLC Related Articles
You are here:
Home

Arizona Law

Arizona LLC Library

Company Formation Articles
The KEYTLaw LLC Law Library was moved to our new Arizona Limited Liability Company Law website. Click on the link to go to our new AZ LLC Law website.
Articles by Richard Keyt about Forming & Operating Arizona Entities
Types of Entities for New Arizona Companies
How to Form an Arizona Limited Liability Company
Arizona Limited Liability Company Operating Agreement FAQ
Two Primary Asset Protection Rules for Real Estate Investment
"How Many LLCs Should I Form for My Properties?" The tale of the three little pigs and why more is better than one for asset protection.
Arizona Limited Liability Company Operating Agreement FAQ or Why Most Multi-Member Arizona Limited Liability Companies Need a Comprehensive Operating Agreement
How to Incorporate in Arizona (for profit corporations)
How to Form an Arizona Nonprofit Corporation
About the Author
Richard Keyt, J.D., LL.M. (income taxation New York University Law School) is a business, real estate, transactions, contracts and estate planning attorney licensed to practice law in Arizona. He has formed over 2,900+ Arizona limited liability companies in the last few years because his low cost high quality LLC package is second to none and it only costs $599 for everything. Rick has practiced law in Arizona since 1980. Rick can be reached by telephone at 602-906-4953, ext. 3. Email at rickkeyt@keytlaw.com and fax at 602-297-6890. Rick's web site located at www.keytlaw.com had over 6,000,000 visitors in 2006 - 2010. To follow Rick on Twitter go to www.keytlaw.com/twitter. Rick does not accept matters involving landlord / tenant disputes or litigation of any kind (other than tax lien foreclosures). Communicating with Richard Keyt via email or otherwise does not cause you to become a client or cause your communications to be confidential or subject to the attorney client privilege.
KEYTLaw LLC Formation Records: day: 17 (6/4/08); week: 27 (week ending 6/7/08); month: 64 (6/08); year: 446 (2010)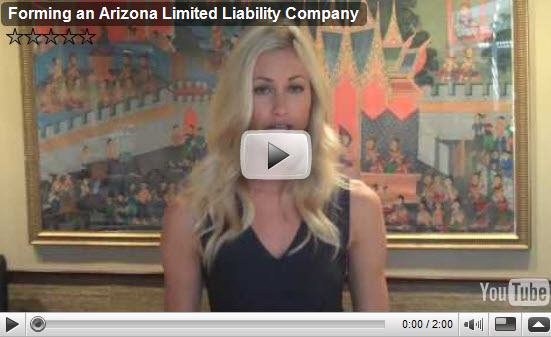 Join our free Arizona LLC email newsletter list.
Compare Richard Keyt's complete LLC package for $599 with what you get and what you will pay else where. See testimonials from satisfied LLC clients.
Call 602-906-4953, ext. 1 NOW if you want an LLC to: (1) prevent creditors of your business or investment real estate from taking your personal assets, and (2) asset protect your personal assets from debts, liabilities and lawsuits.
If You Do Not Hire KEYTLaw to Form Your AZ LLC, Give Yourself Peace of Mind and Purchase Our Quick Start Guide - Only Available from KEYTLaw.com
What you don't know about operating your Arizona LLC could cost you thousands of dollars or possibly risk a court "piercing the veil" and holding the members of the LLC liable for its debts. Arizona business attorney Richard Keyt's in depth, Arizona specific 172 page Arizona LLC Quick Start Guide is the Holy Grail about operating Arizona LLCs. Merriam-Webster's dictionary defines "Holy Grail" as "an object that is sought after for its great significance," a term that aptly describes the AZ LLC Quick Start Guide.
How to Purchase the QSG
This owner's manual for operating an Arizona LLC explains 75+ critical topics that affect Arizona LLCs. See the nine page Table of Contents and you will be amazed that so many important topics are explained in one convenient source. Click here to purchase the Quick Start Guide now from our internet store for the incredibly low price of $99. Ignorance of Arizona LLC law and how to operate your Arizona LLC could be very costly.