Form LLC Now
Home
Testimonials
Arizona Law
LLC Library Home
10 Critical Facts
LLC Prep Service
LLC vs. Corps
How to Form LLC
1 Member LLC Alert
LLC Quick Start Guide
Asset Protection LLCs
Partnership Bombs
How Many LLCs?
Doc Preparer Alert
OA FAQ
Why You Need OA
OA Prep Service
Buy-Sell Agreement
LLC Alert System
Annual LLC Minutes
Amend Articles
Change LLC Name
Change Members
Stat Agent Service
Register Foreign LLC
LLC Forms
AZ Loan Forms
LLC Articles
LLC Statutes
Get Fed ID No.
IRS Forms for LLCs
About Rick Keyt
Contact Information
Map to Office
For Sale
_______________
Articles on
LLC Formation
How to Form LLC
Name Your LLC
Articles Organization
Statutory Agent
ACC Coversheet
ACC Filing Fee
File the Articles
File at ACC
Keep Copy of Articles
Approved Articles
Publish Articles
Federal ID Number
IRS Forms
AZ Tax Forms
Operating Agreement
Operating Agr Service
Start a New Business
AZ LLC Statutes
LLC Related Articles
You are here:
Home

Arizona Law

Arizona LLC Library

Publish Articles of Organization
The KEYTLaw LLC Law Library was moved to our new Arizona Limited Liability Company Law website. Click on the link to go to our new AZ LLC Law website.
Publish the Articles of Organization in a Newspaper
by Richard Keyt, Arizona LLC and business attorney
Within sixty days after the date the Articles of Organization were filed with the ACC, you must publish a Notice for Publication for three consecutive publications in a newspaper of general circulation in the county of the company's known place of business in Arizona. The notice of filing the Articles must contain the information required in Arizona Revised Statutes Section 29-632, subsection A, paragraphs 1, 2, 4 and 5.
If you file the Articles of Organization on an expedited basis, you may wait to publish the Notice for Publication until the ACC approves the Articles of Organization to prevent wasting the publication costs if the articles are rejected.
See the ACC's list of Arizona newspapers of general circulation by county, which list also includes newspapers from which the ACC will not accept publications. The cost to publish the Notice for Publication depends on the newspaper, the county in which the newspaper is located and the length of the Notice, but you should budget $55 - $85 if the known place of business is in Maricopa County.
Publication cost will be greater if your company's known place of business is outside Maricopa County. Caution: The Yuma Daily Sun is the only ACC approved newspaper in Yuma County so it grossly over charges for legal publications, including a Notice for Publication. In the past, this newspaper charged me three times more to publish in Yuma County than what I paid in Maricopa County for similar publication.
How to Avoid Being Over Charged by a non-Maricopa County Newspaper
To avoid excessive legal publication costs (perhaps as much as $100 or more) for a Notice of Publication, do the following:
Before filing the Articles of Organization, prepare question 2 of the Articles to list the LLC's known place of business in Maricopa County.

Publish the Notice of Publication in Maricopa County (hopefully using our convenient discount publication service - see below).

File a change of address form with the Arizona Corporation Commission to change the LLC's known place of business from Maricopa County to the desired address in the appropriate county.
Return the Affidavit of Publication to the ACC
Within ninety days after the date of filing the Articles of Organization, you must file with the ACC a notarized Affidavit of Publication evidencing the publication of the Notice for Publication as required by Arizona law. Confirm with your newspaper that it will automatically as part of its publication service prepare and file the Affidavit of Publication with the ACC. Instead of filing the Affidavit of Publication directly with the ACC, some newspapers mail the document to you and you must then send the Affidavit to the ACC before the ninety day deadline. Make a tickler or calendar a reminder of the deadline if you must send the Affidavit to the ACC.
Failure to Comply with the Publication Requirements
If you fail to timely publish the Notice of Publication or fail to timely file the Affidavit of Publication with the Arizona Corporation Commission, the ACC may revoke the charter of the company, which causes it to die and cease to exist.
About the Author
Richard Keyt, J.D., LL.M. (income taxation New York University Law School) is a business, real estate, transactions, contracts and estate planning attorney licensed to practice law in Arizona. He has formed over 2,900+ Arizona limited liability companies in the last few years because his low cost high quality LLC package is second to none and it only costs $599 for everything. Rick has practiced law in Arizona since 1980. Rick can be reached by telephone at 602-906-4953, ext. 3. Email at rickkeyt@keytlaw.com and fax at 602-297-6890. Rick's web site located at www.keytlaw.com had over 6,000,000 visitors in 2006 - 2010. To follow Rick on Twitter go to www.keytlaw.com/twitter. Rick does not accept matters involving landlord / tenant disputes or litigation of any kind (other than tax lien foreclosures). Communicating with Richard Keyt via email or otherwise does not cause you to become a client or cause your communications to be confidential or subject to the attorney client privilege.
KEYTLaw LLC Formation Records: day: 17 (6/4/08); week: 27 (week ending 6/7/08); month: 64 (6/08); year: 446 (2010)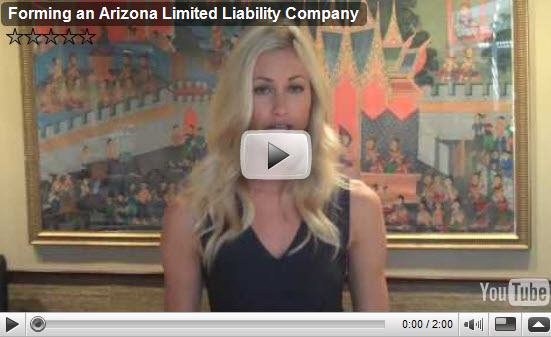 Join our free Arizona LLC email newsletter list.
Compare Richard Keyt's complete LLC package for $599 with what you get and what you will pay else where. See testimonials from satisfied LLC clients.
Call 602-906-4953, ext. 1 NOW if you want an LLC to: (1) prevent creditors of your business or investment real estate from taking your personal assets, and (2) asset protect your personal assets from debts, liabilities and lawsuits.
If You Do Not Hire KEYTLaw to Form Your AZ LLC, Give Yourself Peace of Mind and Purchase Our Quick Start Guide - Only Available from KEYTLaw.com
What you don't know about operating your Arizona LLC could cost you thousands of dollars or possibly risk a court "piercing the veil" and holding the members of the LLC liable for its debts. Arizona business attorney Richard Keyt's in depth, Arizona specific 172 page Arizona LLC Quick Start Guide is the Holy Grail about operating Arizona LLCs. Merriam-Webster's dictionary defines "Holy Grail" as "an object that is sought after for its great significance," a term that aptly describes the AZ LLC Quick Start Guide.
How to Purchase the QSG
This owner's manual for operating an Arizona LLC explains 75+ critical topics that affect Arizona LLCs. See the nine page Table of Contents and you will be amazed that so many important topics are explained in one convenient source. Click here to purchase the Quick Start Guide now from our internet store for the incredibly low price of $99. Ignorance of Arizona LLC law and how to operate your Arizona LLC could be very costly.